Manage 10 or 10 million locations
Build search engines, import data in bulk, create users and publish content from our comprehensive, fully automated platform.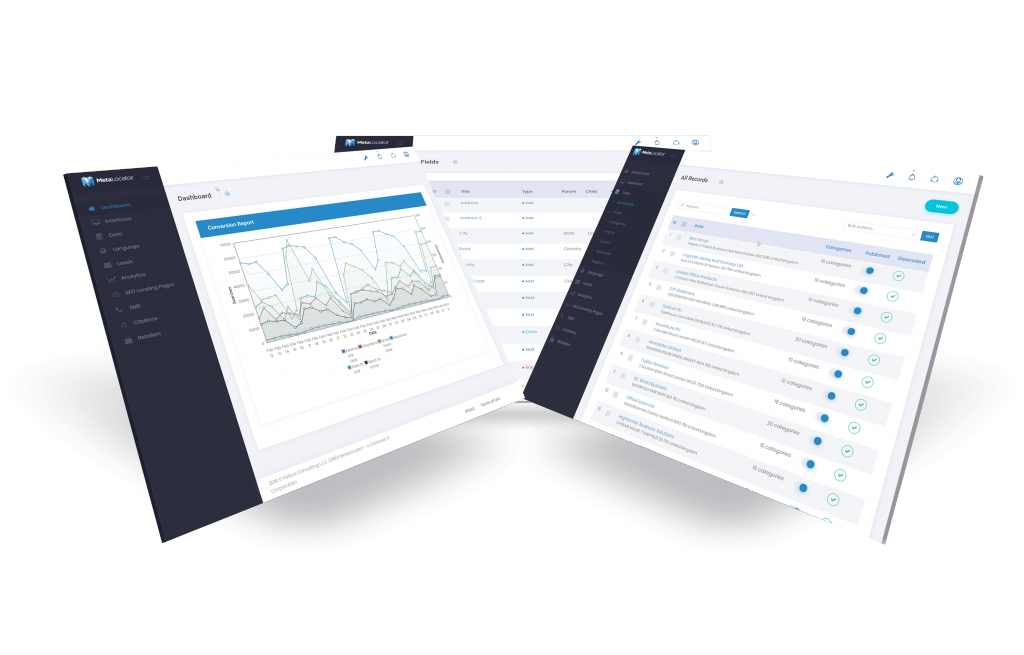 Import and Export location, product and other content with ease
Import locations, products, categories and more from multiple sources including
Spreadsheets including CSV, Excel and OpenOffice
SalesForce
Custom sources via the MetaLocator Data Management API
Map field names to internal MetaLocator fields or build custom fields automatically.
View reports regarding missing address data, incomplete or inaccurate content.
Enhance Location Data Quality
View Data Quality Dashboard Reports such as:
Complete Name address phone (NAP) information
Complete Social media information
Locations with and without photos, links and email addresses
Determine gaps in data quality at a glance.
Isolate and fix problems in data Consistency, Completeness and Accuracy.
Manage Store Location Content, Categories and Attributes
Our complete location editor allows full control over store content including
Location name, address, phone, Web site, email
Social Media, Images and Videos
Custom fields, categories and attributes
Products, Inventory, Services, staff and features
Expand the data model directly from our dashboard to align with your existing content.  Create additional fields, tables and relations.
Complete Integrated Analytics
Our integrated analytics package provides detailed event information from your locator including:
Searches performed, results clicked, markers opened and details viewed
Conversion information including leads captured, directions sent and locations saved
Segmented analytics by date range including page views, visitors, geography, mobile/desktop and much more.
A heat map showing where searches are performed, relative to your location data
At-a-glance conversion focused dashboard showing material activity on your store locator
Use our integrated analytics or publish content automatically to Google Analytics, optionally via Google Tag Manager.
Powerful Search Engine Editor
The heart of MetaLocator is its powerful Interface Editor.  Access hundreds of feature options directly from the Web-based dashboard.
Choose from pre-configured Interface templates to customize
Create multiple interfaces in the same account, each displaying unique or aggregated data
Control every aspect of your store locator including search options, results content, ordering, CSS and much more.
Integrated videos, tooltips, descriptions and documentation provide ready support.
Dive into the options or tweak the ready-made solution templates.  Support is available at the click of the mouse.