Hundreds of Options, Unlimited Possibilities
Create a complete, responsive store locator in seconds using our sensible defaults. Or dig deeper to create practically any type of searchable directory, including product finders, job boards, member directories, model galleries, real estate Web sites and much more. MetaLocator is a powerful tool with hundreds of options allowing you the flexibility to create a customized solution for your Web site without overwhelming you with technical requirements. With the simple administrative interface, you can control every aspect of your software using a point and click interface.  Control of fonts, colors, sizes and placement is at your fingertips. Options allow for pixel-perfect detailed control of field placement, formatting and even custom HTML/CSS and Javascript.  Use our software with or without knowledge of Web programming.  MetaLocator allows you to use every advanced feature, but requires none. View the Feature Checklist for an extensive list of features.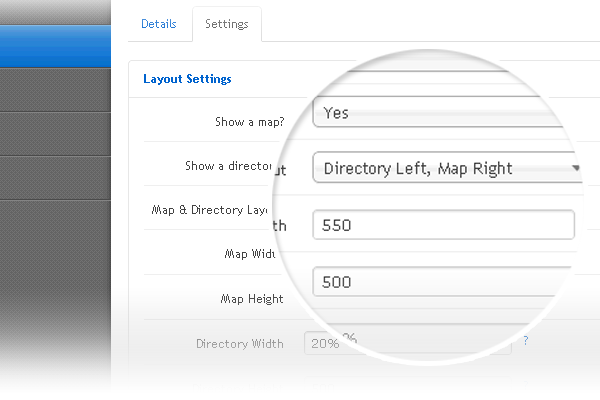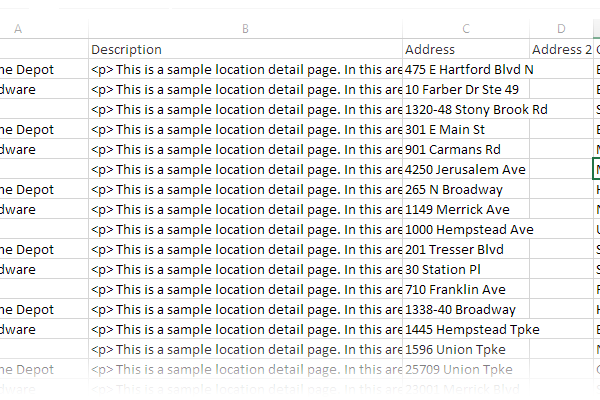 Import and Export data in bulk via CSV, our API or one by one
Easily add, update and manage your data using our simple CSV import tool.  Our intelligent importer will identify and update data to synchronize your list as your data changes.  Export and download your location data as needed into a spreadsheet in one click.  Even filter your data based on the name of the spreadsheet that was used to import.  You can also add and edit locations one by one using our intuitive data management tool.  Tweak your descriptions, or even manually adjust the detected location by dragging the marker directly on the map.
Custom Fields and Categories
Create multiple locators that display different data on your Website by categorizing your data. Create one search interface for your vendors, another for dealers and one for customers.  Use the category system to create different icons for each category of location.  Choose from our gallery of thousands of icons or create your own.  Create private maps, internal sales staff directories and customer facing store finders within the same MetaLocator account.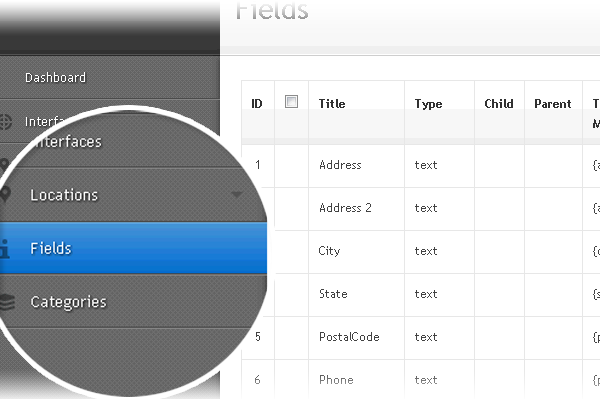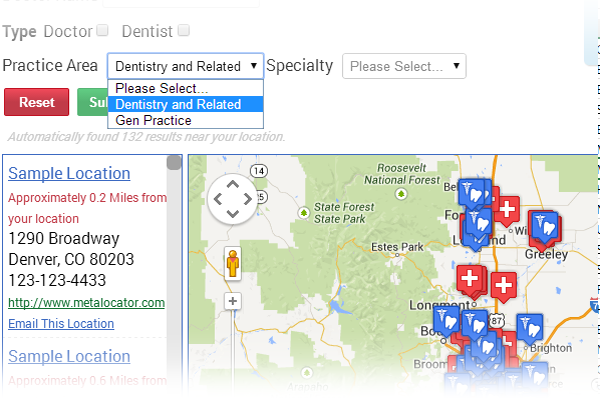 Hierarchical Drill-down Search
Create "chained" drop-down lists that allow your users to drill down through a series of hierarchical choices, creating an feature-rich interactive search filter. Establish your custom hierarchy based on your imported data to allow users to find the type of data they want, quickly.
Complete Mobile App Included
Create a full-featured mobile app for your customers on-the-go.  The mobile interface is an easy to use Web application with a native app look and feel.  Allow users to automatically find locations nearest to their device location or allow for powerful keyword, postal code and/or category searches.  Put your corporate logo on your customer's iPhone home screen with no programming required.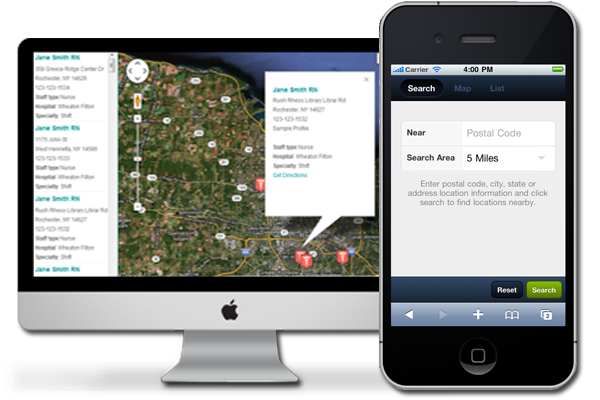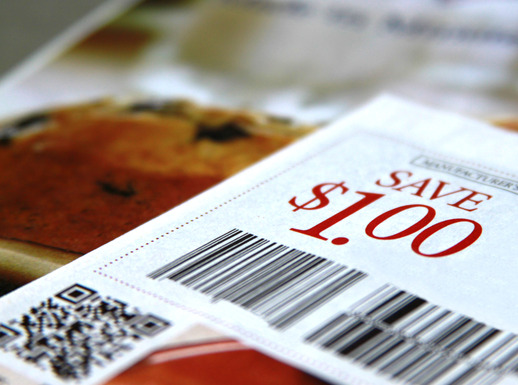 Coupons & Offers
Create promotional offers and connect them with your locations.  Control offers on a per-location basis.  Create banner advertisements and location-specific promotions directly from the Dashboard.
Lead Generation
A lead generation form can easily be added to each location.  Each lead can generate an email to a location-specific contact, a master admin account or both.  Login to the dashboard to view and manage all leads and associated locations.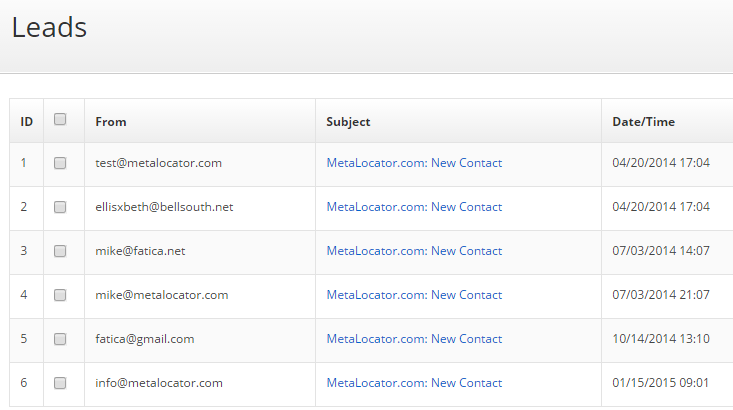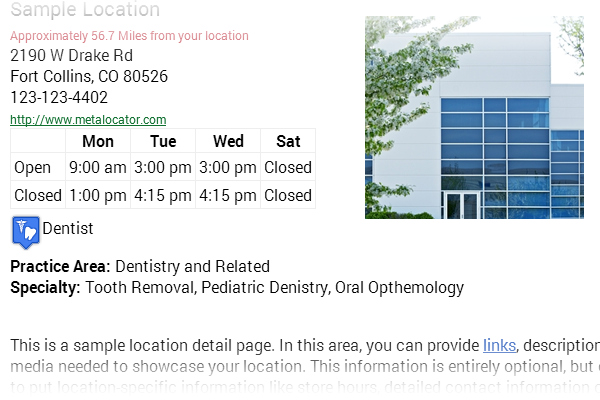 Feature Rich Location Landing Pages
MetaLocator creates landing pages for each location that includes highly flexible templates, and can display many location-specific data points including: name, address, phone, HTML description, videos, image gallery, detailed location map, directions, hours of operation, social links, any custom fields or data you require..
Facebook Integration Included
Create a complete Facebook store locator, without any additional costs.  Your highly configurable store locator will snap directly into your corporate or personal Facebook page.  Show your locator page only to users who 'like' your page, or provide it to all users. Google+ integration is coming soon!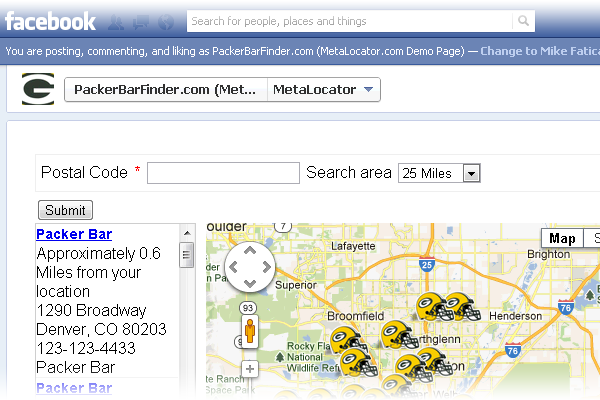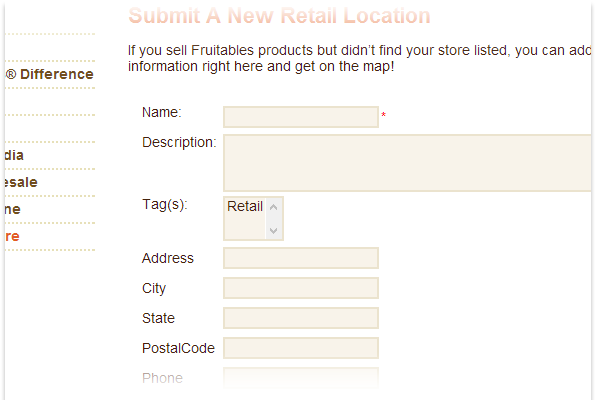 Build Crowdsourced Databases
Publish a form on your site that allows end users to submit location details directly through your site.  Optionally automatically publish those locations directly on selected interfaces.  Show or hide certain fields to your end users through the form.  Receive email notifications as users submit locations through your form.
Multiple Languages, Any Country
Create one global directory of international locations or create interfaces for each country you serve. MetaLocator will intelligently allow your users to search for all locations, in any country. MetaLocator allows for the creation of country-based search screens, so you can display your domestic Locations on one page and foreign locations on another page, or create one page for each country. Display your locations in the language native to the area. All customer-facing elements can be translated including map elements.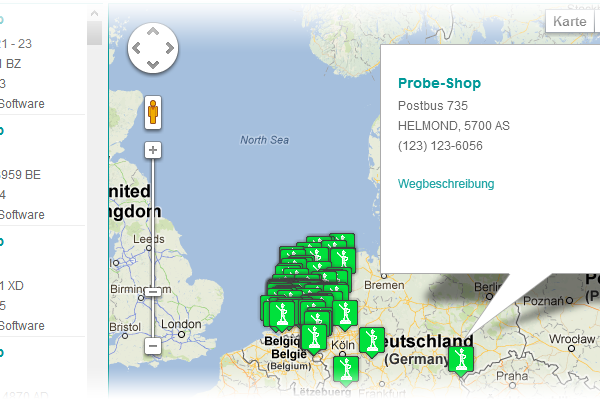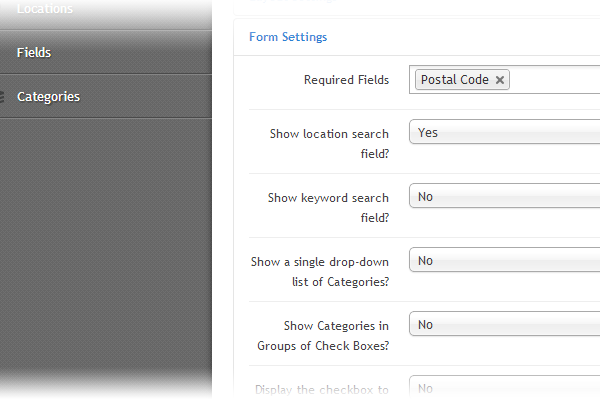 Powerful & Configurable Search
Proximity Search provides for a traditional postal code search with configurable radius. Allows for intersection, street address and city proximity search. Automatically detect the user's location, find nearest location regardless of distance. Search for user-configurable Categories such as 'Vendors', 'Dealers' or combinations. Create category-based directories for different types of locations in your database. Match any part of the location with a keyword-based search. Add custom HTML markup and meta-data to your locations for increased SEO. Display preferred locations by default.
Master-Detail Records with custom relationships
Create your own data types, and decide how each type will be presented. Connect persons with locations, or vendors with service areas, or supervisors with employees and employees to departments. The complexity of your data is limited only by your imagination. Establish relationships between types as 1-to-1, 1-to-many and many-to-many. Assign each data type a default interface and presentation format. Show addresses for your locations, but not for your staff. Include a picture for your sales team members, links for your vendors and maps for your locations with a custom map. The options are unlimited.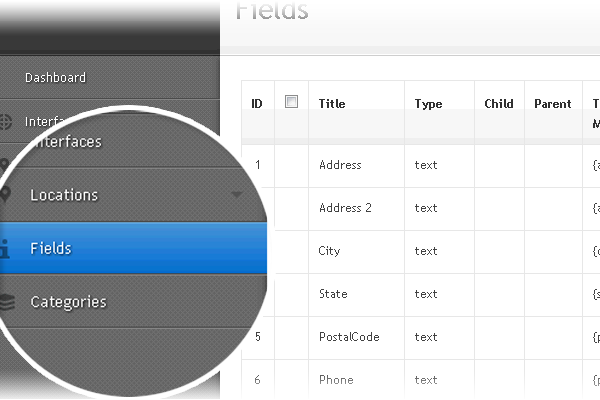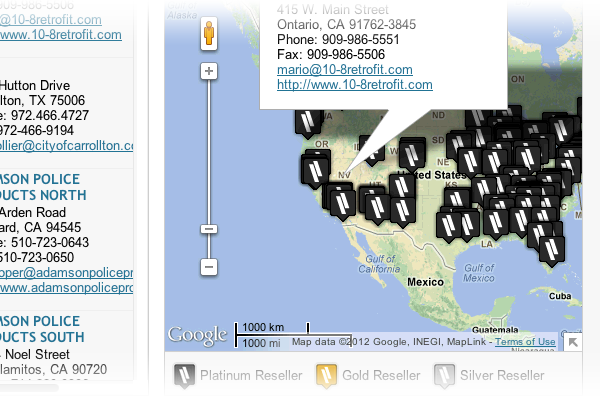 Seamless, White-labelled Integration
MetaLocator integrates seamlessly and unobtrusively.  Your customers will not perceive that any third party tool is involved with the presentation of your Website. You keep your branding and URLs.  Non-Enterprise accounts may display a very subtle attribution link in the page footer.
Multiple Interface Layouts
Create a primary store locator search page for your site, then add a smaller, unobtrusive search box to your header for a quick postal code search integrated into your template. Arrange your map above, below, left or right of your search results. Assign an interface as the default handler for your custom data types. You can also detect and optionally redirect mobile users to the mobile-friendly interface. Even provide a printer-friendly layout for your users.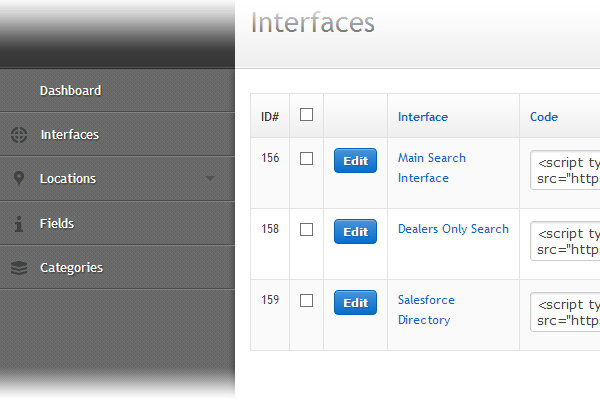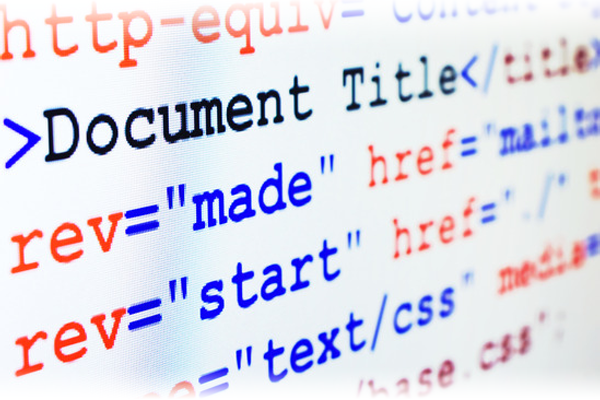 API Control & Automation
Our XML-RPC API allows for programmable control of the software.  Create, delete, update or unpublish locations with a simple XML request.  Schedule automated FTP uploads of location records and our system will automatically import and publish according to your settings.  Includes a complete API guide and testing tool.
Responsive & Mobile-Friendly Admin Interface
The MetaLocator admin interface is simple, easy to use and adapts to iPads, tablets and mobile devices with ease.  Access your locator data from anywhere, anytime and nearly any device.  The simple tabbed interface shows your progress through creating your first complete store locator for your Web site.  Access your payment history, download invoices and upgrade or cancel your account.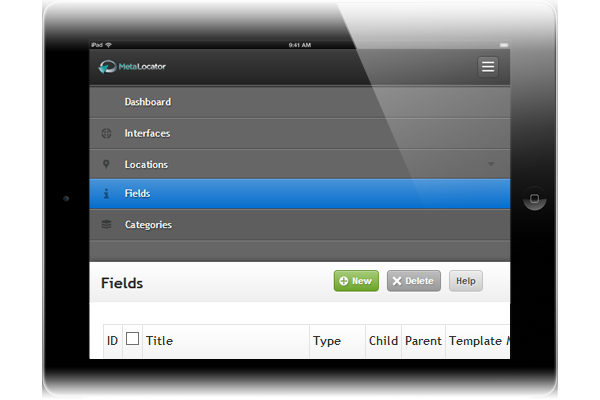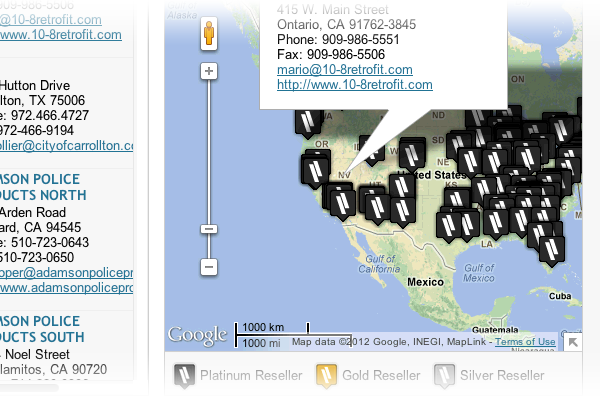 Search Engine Crawlable, SEO Optimized Store Locator
Not all locator solutions can be indexed by Google and other search engines.  MetaLocator boosts your local search results by integrating with your Web site so that your location content is indexed by search engines as part of your Web site. Other hosted locator solutions put your content on their Web servers, draining your site of it's primary SEO asset: content. No other hosted solution offers this level of integration. There are never any special server requirements or software to install. Works with any Web site.  Use MetaLocator to create searchable, index-able directories of your locations grouped at various levels such as Country, State and City.  Search engines love these crawlable directories which drive traffic to your location landing pages.  Learn more about the SEO Features of MetaLocator here.
Territory and Area Coverage Support
Define your own custom sales territories or service areas using postal code lists, state lists, cities, counties, countries or even postal code prefixes. Locations that "own" a given territory will then be automatically included in search results. This feature is great for providing regional coverage of large or even detailed geographic areas while allowing your users to search with whatever method they prefer. Create sales territory maps and service area maps to route your customers to the correct contact in your database.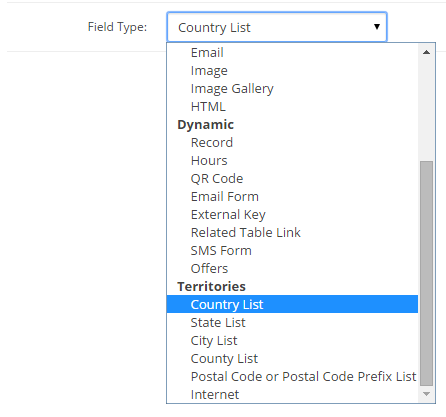 Over 300 features, more than we can list here
Works with any Web site type

Choose from hundreds of options without writing code

Hundreds of documentation articles

Context-sensitive help system

Direct access to helpdesk

1-800 number for phone support
Import data from a spreadsheet

Import data from SalesForce

Custom Integration with our API

Import public data from our data libraries

Custom fields, field types and names

Control all customer-facing text

Edit data manually within our Dashboard

Allow end users to submit data
Complete Facebook Integration

International support, multiple languages and RTL

Fully Customizable Search

Multiple Search Interfaces in the same account

White-labelled, seamless integration with your Website

Territory and Service Area Support

Multiple Related Data Types with Master-Detail Pages.

Complete Mobile App included

Custom hierarchical drill-down search