Our Locator Software Powers 2 Million Visitors Per Month, 6000 Search Engines And 4 Million Locations
Create a Store Locator, Product Finder or Searchable Database using your data as a seamless aspect of your existing website.  Free for 30 days.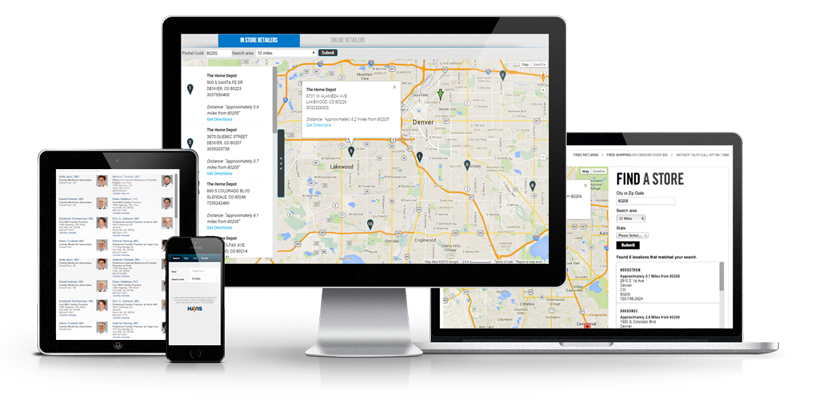 Simply the most feature-rich Store Locator Software Available
Leverage over 300 features to create searchable databases including Store Locators, Product Finders, Staff Directories, Physician Finders, Property Maps, Sales Territory Maps, Heat Maps and much more.
Getting Started in 3 Steps
Import Your Data
Upload data in bulk or add locations one by one, or even automate with our data API
Import Your Data
Add locations in bulk via a spreadsheet, a simple form or automate with our API
Configure Your Search
Choose from our templates or dive into the 300 options to build your custom search
Configure Your Search
Choose from our templates or dive into the 300 options to build your custom search
Deploy to your Website
Copy and paste a single line of code to deploy to your Website
Deploy to your Website
Copy and paste a single line of code to deploy to your Website
Up and Running in Minutes
Watch the quickstart video which shows a complete solution built in under 90 seconds.  The video shows the basic steps of getting started with MetaLocator, including importing data, creating an interface and viewing the results.  See more videos on our Youtube Channel.
Easy Integration for all Web sites
MetaLocator™ works with any Web site. Deploying your MetaLocator™ solution is as simple as copying and pasting a single line of code on your website where you would like the software to appear. Do that only once, and manage your settings, locations and layout from MetaLocator.com thereafter. Create as many search interfaces as needed, one for your vendors, one for your sales staff directory and another for your customers searching for retail outlets. Even include an unobtrusive store finder search in your web site's header.
Dedicated Support When You Need It
Call our toll-free number, ask our helpdesk, read our documentation or use our context-sensitive help system to get the help and guidance you need. We focus on building video tutorials and documentation for each and every feature. MetaLocator™ is easy to use, but if you need direct help, resources are available 24×7. We also offer one-on-one training sessions at no cost for our customers. MetaLocator™ is built around our customer's needs.
Hundreds of Supported Countries
MetaLocator.com is used throughout the world. You can display locations in multiple languages and search in any of over 200 countries. Display a single international map to allow users to search by postal code worldwide.  You can control and translate all customer-facing language in all character sets, including right-to-left character sets.  Check country support.
"After working with several other locator services, we changed to MetaLocator"
"If I could sum them up in one word it would be, service. Not only were we working on a tight deadline, our locator had unique requirements as well. We emailed with questions numerous times and they always promptly responded with insightful suggestions. They even joined our team for a conference call to make sure everyone's questions were answered.  I highly recommend MetaLocator to anyone seeking locator software for their website"– Scott Johnson – Partner, Key Marketing Group – February 2014
You provide some of the best and quickest customer service! You rock! Some of the the best support out there!
@MetaLocator's support is absolutely terrific, as @jonschr can attest. Thanks for the quick responses!
5 stars – I recently switched to using MetaLocator. I love that it's compatible with ANY site or system now…much more flexible. Also, the customer service and support response time is unparalleled in the industry.
MetaLocator is an amazing product. It is robust, packed with features and yet easy to use. I wish we would have known about it 6 months ago. It would have saved us a lot of hassle with custom built solutions that don't even come close to what MetaLocator can offer. The customer service has been the best part. Every question we've had has been met with a quick and knowledgeable response.
As a developer myself, I definitely will be recommending MetaLocator.
I have been very impressed with MetaLocator. I was reviewing many hosted Find a Location Near You providers and eventually chose MetaLocator because it had all the features that I was looking for, and a very fair price. What I did not know at the time is how great the support would be. I have had a number of "out of the box" scenarios that I needed to set up and all my questions and support requests were answered quickly and knowledgeably. They even made a change to the core of the system to accommodate a specific feature request that I had. I highly recommend this tool.
Search Engine Optimized to Drive Traffic
Fully index-able landing pages for each person, place or thing.  Automatically generate highly optimized location landing pages for each location. Easily build hierarchical directories of pages at the Country, State/Province, City level or custom levels.  We do the heavy lifting of generating the pages and building site maps that plug directly into your Website.  No plugins to install or server requirements.
Distribute your content to scores of directory websites automatically.
MetaLocator is a Factual Trusted Data Provider.  We publish your data to tier 1 content networks at the lowest cost per location available.  From there your content can appear on scores of directories including:
Over 300 features, more than we can list here
Works with any Web site type

Choose from hundreds of options without writing code

Hundreds of documentation articles

Context-sensitive help system

Direct access to helpdesk

1-800 number for phone support
Import data from a spreadsheet

Import data from SalesForce

Custom Integration with our API

Import public data from our data libraries

Custom fields, field types and names

Control all customer-facing text

Edit data manually within our Dashboard

Allow end users to submit data
Complete Facebook Integration

International support, multiple languages and RTL

Fully Customizable Search

Multiple Search Interfaces in the same account

White-labelled search interface, seamless integration with your Website

Territory and Service Area Support

Multiple Related Data Types with Master-Detail Pages.

Complete Mobile App included

Custom hierarchical drill-down search
Only 3 Steps to Go Live
Import  your data, configure your search and deploy!  Getting up and running is as easy as these 3 steps and you are off and running.  Works with any website.
Import Your Data
From Spreadsheets, CSV, SalesForce, our API and more!
Import Your Data
Use our API for custom integrations
Configure Your Search
Choose from 200 options, create unlimited search engines.
Configure Your Search
Build multiple, categorized, individually-deploy-able search engines
Deploy to Your Website
Copy and paste 1 line of code to your site and you're live.
Deploy to Your Website
Our software appears as a seamless, integrated aspect of your website.
Join the thousands of satisfied MetaLocator users!