Mapping in China is commonly met with the unique challenge of the lack of Google's presence in that country. Users in China can not access Google's mapping or search services. Additionally, many other geography providers are limited in various ways due to how closely China protects details of its geographic data.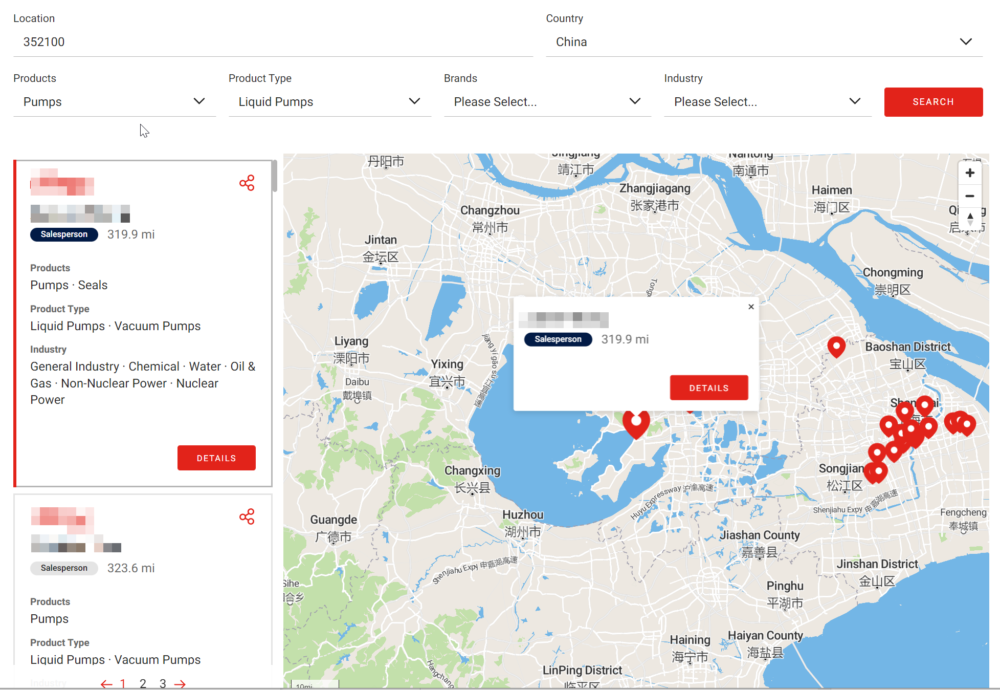 MetaLocator makes building a dealer locator in China simple. But if you're going it alone, or need to understand your options, these are the basic elements you would need to consider:
Use a Map Provider that provides services to users in China. E.g. MapTiler or MapBox.
You will need to ensure your map provider includes local language labels as shown above so that the map is intelligible by local language speakers. We recommend showing both English and the local languag(es) in most contexts.
If you are providing territory-based searches, the geocoding provider must include a complete collection of administrative levels for all search types. E.g. searching for 352100 should match for locations serving Fújiàn province.
Directions links should be intelligent enough to dynamically take users in China to a locally supported directions engine such as Baidu, again, not to Google.
The search should support the input of traditional and simplified Chinese characters for geographic and keyword search terms.
Any dynamic logic should be built around the *user's location*, not the selected country. Just because a user is searching for locations in China doesn't mean they are physically located in China.
Building a store locator from scratch in China is a complex undertaking. MetaLocator has been building locators in all countries and languages for over a decade and we understand the nuances of international deployment. Contact us for details if you are undertaking a new international locator project.