MetaLocator has the ability to capture leads through our locator software. These leads represent real business opportunities for our customers and the independent contractors they work with who service, sell, install or otherwise fulfill customer requests. Lead generation represents the most critical and high-value function a typical partner locator can deliver. This also informs response time, communication expectations and the sales development resources that need to be involved.
MetaLocator has recently introduced a special "Budget" field which can be added to your lead forms in order to track potential revenue per lead.
The new budget field from MetaLocator helps lead recipients determine the size of the incoming opportunity. This improves lead acknowledgements, leading to more business and revenue. The budget field also informs a reporting dashboard which shows total lead revenue gained and lost.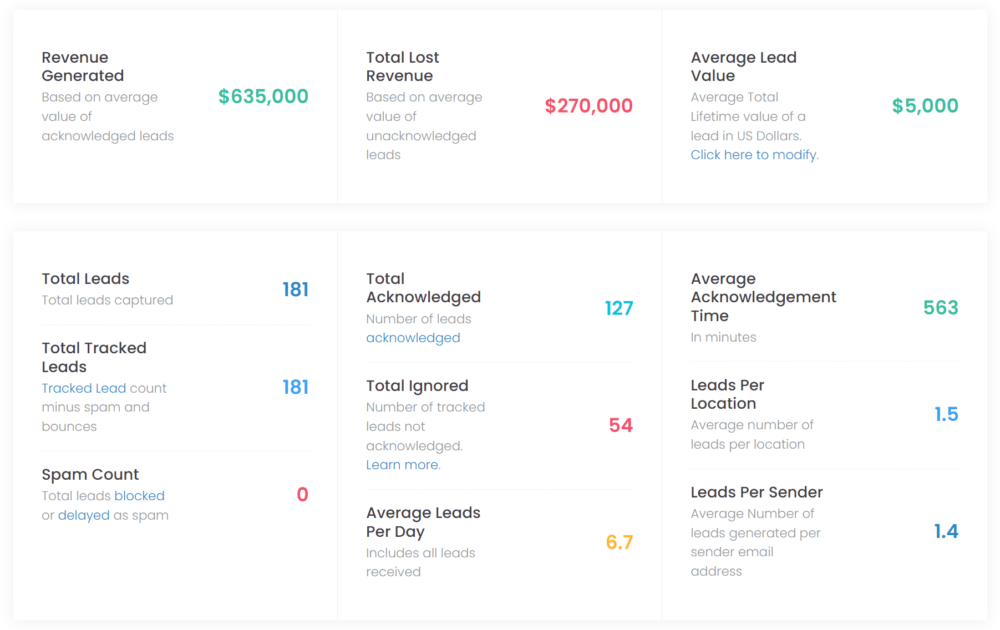 The budget field also supports international currencies by displaying an optional currency drop-down for international deployments.
Watch the video below for more information and read the new support article.
Lead Budgets Improve Lead Tracking
Leads are captured through in our locators via email and include the ability to track the acknowledgement of that lead by the recipient. This helps provide visibility into the customer journey from their initial inquiry through engagement with a responsive partner. This tracking capability is generally referred to as Lead Acknowledgement. Lead acknowledgement provides the ability to track whether the independent third party, typically a contractor, dealer or installer, actually opens the lead and takes action on it.
On average we find that only two-thirds of incoming leads are acknowledged leaving about 33% unread. The fact that 33% of leads go unacknowledged is a major issue when directing business to independent contractors. 33% is a large number of unacknowledged leads, especially when some leads can range in value from a few thousand to millions of dollars. Leaving roughly a third of potential revenue on the table due to leads going un-acknowledged is an issue MetaLocator can remedy and ultimately lead to larger profits and business growth.
When a user submits a lead that is not in USD, MetaLocator will convert the value to USD for reporting while retaining the original budget and currency values in the lead record. This feature of the budget field for lead generation takes out the hassle of the user having to convert the currencies themselves.
MetaLocator has introduced a special "Budget" field which can be added to your lead forms in order to track revenue per lead. The field includes a currency option for our international customers.
When the Budget field is captured, MetaLocator can report accurate Revenue Generated and Revenue Lost figures in the dashboard.
Tracking potential revenue unlocks critical insights in the total revenue volume of total captured leads and those that may have gone un-acknowledged.
Importance of Lead Acknowledgement
One issue in the industry is that product manufacturers, vendors and distributors often rely on a network of 3rd party businesses to sell, service, install and stock their products. This indirect sales channel is sometimes the only way the brand owner sells their product and represents their brand. As part of managing a dealer network, the brand owner often provides a facility for the customer to find a dealer, such as a dealer locator on their website.
The customer might encounter the dealer locator after clicking on a "Where to Buy" button or in a "Brand X near me" local search on Google or similar search engine. The customer then searches the dealer locator and finds one or more local businesses to engage. The customer then contacts a local dealer in the form of an opportunity or lead.
After facilitating the connection between the customer and the dealer, brand owners often can't answer these critical questions:
Did the potential customer successfully contact a dealer? Was the inquiry email opened? Was the contact information for the dealer correct?
How long did the customer wait for a reply? How responsive is this dealer? Was the lead ignored?
Was the customer satisfied by the dealer's customer service? What rating would the customer give the dealer?
Are high-performing dealers rewarded for their work?
Brand owners must know which of their dealers are the most (and least) responsive. They also need to know what happens to the customers who did not get any reply from their inquiry. Another important piece to note is which of the dealers drives the most customer satisfaction. This information helps the strongest, reliable dealers to be rewarded, and can expose some of the lower-performing dealers to help find ways for them to improve.
A dealer locator platform that cannot answer these questions causes a risk to brand owners as well as the potential for lost reputation and revenue. Dealer locator platforms need to be precise and specific to best improve business and lead generation.
Best Practices for Conversing with your Customer about Budget
Having a conversation with a customer about budget can be challenging, these conversations can be touchy due to the nature of the topic and even feel like an overreach. There are still benefits to asking about one's budget, especially when it comes to lead generation.
It can give you a better understanding of how to best do business with a client or customer regarding the locator lead. It can save time on price quoting, it gives a better idea of what the client's expectations are, as well as opening the door to them potentially raising their budget.
It is important to know the client's budget when building a lead locator, knowing the budget beforehand can be an indication of how advanced and how much work will be needed for the lead generation.
The "BANT" Framework
There are four major needs to keep in mind throughout the sales process: budget, authority, need, and timeline. These four factors, known as "BANT", are a framework for making the sales process easier and more efficient. This process quickly qualifies leads and helps determine if they are a good fit, making more time available for selling to qualified customers.
BANT Framework Process:
Understand the prospect's budget, not just the dollar amount
Identify stakeholders in the decision making process
Determine the importance of the problem
Prepare a timeline for the sales process
Stay informed through multiple channels
Use digital tools to track your progress
BANT is meant to be used as a map to guide natural conversation, it is not to be used as a checklist. Responses need to be truly listened to and spur other questions, one shouldn't just go down the list of the framework process.
The new Budget field in MetaLocator helps better qualify leads, improve tracking, prioritization and routing.
Questions? Contact Us