What is Provider Directory Management Software?
Provider Directory Management Software is commonly used by healthcare organizations and insurance companies to keep accurate directories of providers. This can include doctors, hospitals, clinics, and other healthcare practices. Provider directories serve patients with the essential information to access the right providers.
This software is commonly utilized by insurance companies as well. The directories enable insurance companies to quickly see which providers accept their insurance.
Benefits of Provider Directory Management Software
The ease of upkeeping this information takes stress off of the administrative process and makes it more streamlined. Eliminating the need for manual data entry is a great way for organizations to save time and focus on other pressing needs.
Another benefit of provider directory management software is the ability to search and navigate easily. The software allows for users to quickly access information on specific providers and even filter based on specific criteria. This points the user to their desired information for their needs without hassle.
The patient experience can also be enhanced with provider directory management software by helping them schedule appointments more efficiently. The software can feature bold calls to action directly on each result, prompting the user to book an appointment at the moment.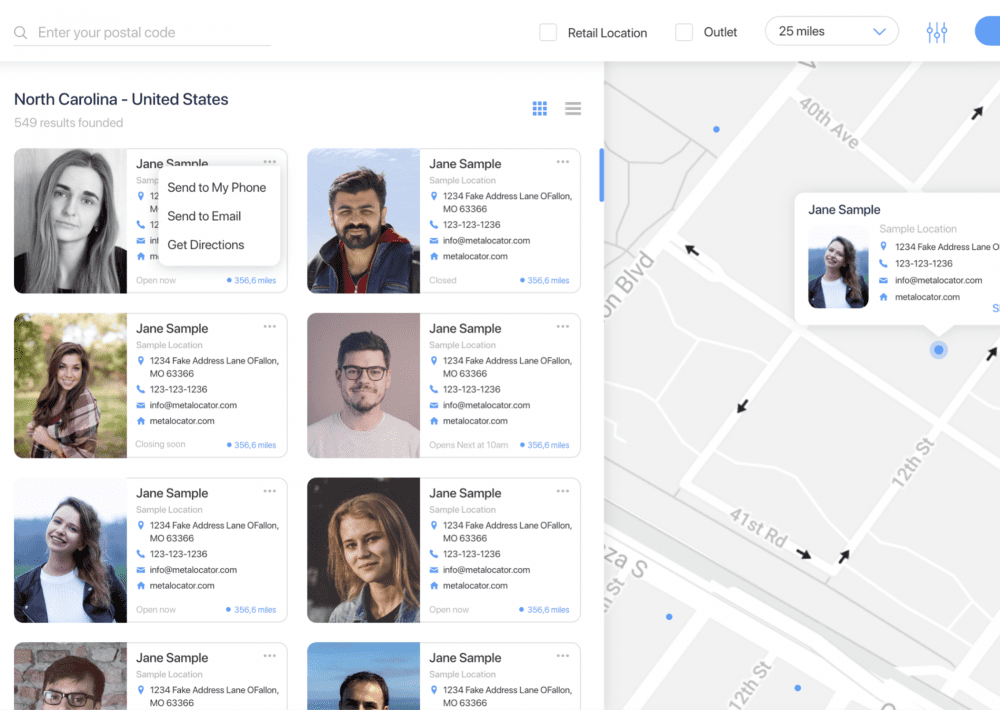 Features Provider Directory Management Software Should Have
Provider Directory Management Software should feature seamless integration into other systems. The software should specifically be able to integrate with external databases. This is a way to streamline data updates and assist with keeping reliable information in the directory.
MetaLocator is designed to easily integrate with any platform. With MetaLocator, users simply copy and paste code one time and your directory page is up and running as an integrated part of your website. The code reacts automatically to your site width and height to create a seamless integration that looks sleek and professional on your site.
One of the primary benefits of provider directory management software is it allows users in the network to manage information about healthcare providers efficiently. This enables users to quickly store and update information for contact details, credentials, practice locations, and appointment availability. It also ensures that the information presented to patients is always accurate and up to date, improving patient relations.
Having a hierarchical directory of pages is another way to promote providers . Hierarchical pages based on different regions such as country, state and city establish brand keyphrases with local SEO signals . This is another feature that can lead patients to their desired practitioner quicker and more efficiently. MetaLocator offers users the ability to build SEO optimized directories with a hierarchical system of their choice.
Data analytics are another feature that can benefit a provider directory. The analytic information provides insights to provider utilization, accuracy, network performance and more. Data driven insights can help users identify performance metrics and lead to more informed business decisions being made. This leads to an optimization of the provider network, benefitting patient care.
MetaLocator features a host of trackable performance metrics users can see. Our data analytics allows for users to track everything that happens in the interface. Including, but not limited to view searches by geography, link clicks, returning visitors and more. Learn more about MetaLocator's performance tracking abilities here.
Another important feature of provider directory management software is security compliance. When dealing with the healthcare industry, especially patients and practitioners, it is necessary that the information the software is managing is secure.
MetaLocator ensures data security through our SOC2 Type I and II certifications. MetaLocator has undergone multiple reviews on its security systems, practices and handling of data to provide the most secure platform possible for users. This gives users patients their information they disclose is safe. Learn more about MetaLocator's SOC2 certifications here.