MetaLocator works hand in hand with Google Analytics 4, both web services provide tracking for analytic events in an event-driven model. GA4 can now be set up to track events beyond just page loads. Some actions in MetaLocator such as Click to Call or Open Marker Window don't require a page load action.
GA4 can now track these events in MetaLocator with a bit of configuration. In GA4 you must configure the specific events you are interested in tracking. Setting up GA4 for MetaLocator is easy, simply add your GA4 Measurement ID to the Interface Settings and you're done, no more configuration to worry about.
For any questions on setting up GA4 for MetaLocator, reach out to our support team or see our support article.
Why a Dealer Locator Would Use Google Analytics 4
One of the major benefits Google Analytics 4 (GA4) can provide to a dealer locator is tracking user behavior. It can follow how users are interacting with the locator and how they navigate it. This can provide insights to the owner to better understand what features of the locator work best for the customers and how they prefer to utilize its features. Tracking this can help the manager make improvements to the locator.
GA4 has other perks for users, like tracking conversion rates. GA4 can help the dealer locator track the number of users who completed a purchase or form after using the locator. It can also provide insights into the audience of the locator. These can be as simple as demographic information to user interests. This can be valuable information to anyone creating and managing a dealer locator, specifically to help create targeted marketing.
GA4 also has the ability to integrate with other Google tools. Specifically, Google Ads and Search Console. Being able to integrate with Search Console creates many benefits, the major benefit is ability for the user to track the performance of the locator page through Google Search Console.
It is also important to note that in June 2023, Universal Analytics (the predecessor to GA4) will be going away permanently.
A dealer locator with Google Analytics 4 leads to data-driven decision making from the owner to better optimize their website while also improving the overall user experience.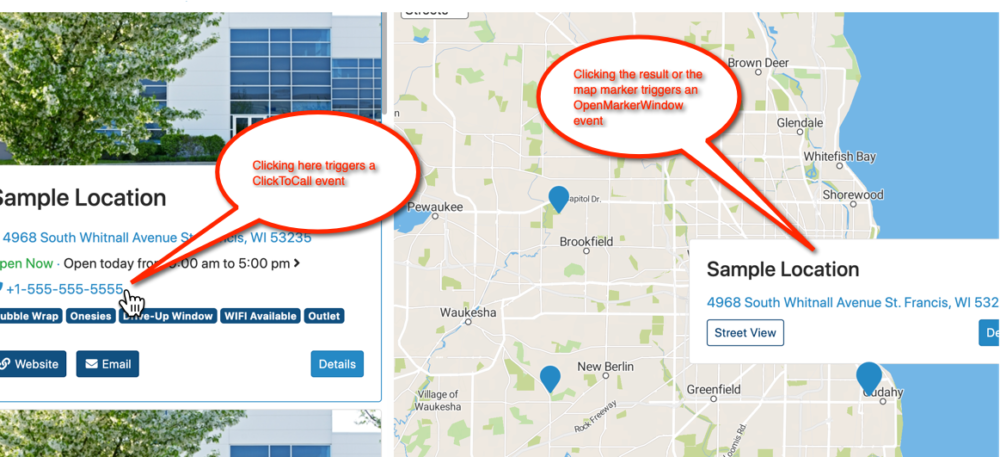 Why a Dealer Locator Would Use Google Tag Manger
Google tag manager (GTM) can simplify the process of tracking codes for websites including GA4, and other marketing related tags. Tag Manager can track user interactions, meaning, the system tracks what users click on within your dealer locator, completion of transactions, as well as searches for dealers.
Similarly to GA4, Tag Manager can also integrate with other marketing tools such as Google Analytics and Google Ads. These features can help measure the effectiveness of marketing campaigns in relation to your locator. GTM also allows for users to test and optimize their tracking codes to see which version is the best, optimizing the site. This can relate to dealer locators, allowing managers of the locators to see what tracking codes provide the best results for the locator, improving the performance and engagement.
The primary benefit of Google Tag Manager in relation to a dealer locator is the ability to better understand the users of the locator while simultaneously working to optimize the performance of the software.
To learn more about MetaLocator and its product offerings, visit our products page.