Building a store locator in the United Kingdom can have its own set of challenges due to the unique nature of the postal codes as well as the geographical features of the country. The United Kingdom follows a unique postal code format that varies depending on where one resides.
The UK postal code format is made up of two codes, the first being the outward code which is then followed by the inward code. The outward code comprises the area and district, the inward code comprises the sector and unit. Postal codes in the UK can range from six to eight characters in length.
There are six different postal code formats used in the United Kingdom such as AANA NAA, AAN NAA and so forth. The varying postal code formats and lengths can create a unique set of issues for users building a locator in the United Kingdom. The postal code lengths and formats depend on where in the country they reside For example, postal codes beginning with BT are in Northern Ireland while postal codes beginning with S are in Sheffield. Store locator plugins not familiar with these formats might reject those codes or prefixes as invalid or incomplete searches.
The United Kingdom comprises four constituent countries. These constituent countries are England, Scotland, Wales, and Northern Ireland. MetaLocator has the ability to also handle the complex overseas territories overseen by the British.
English is the primary language spoken in the country, with about 98% of the residents using it daily, but that doesn't mean there are no prominent foreign languages in the UK. Polish is spoken by roughly 800,000 people in the United Kingdom and there is also a rising number of Arabic speakers moving into the country.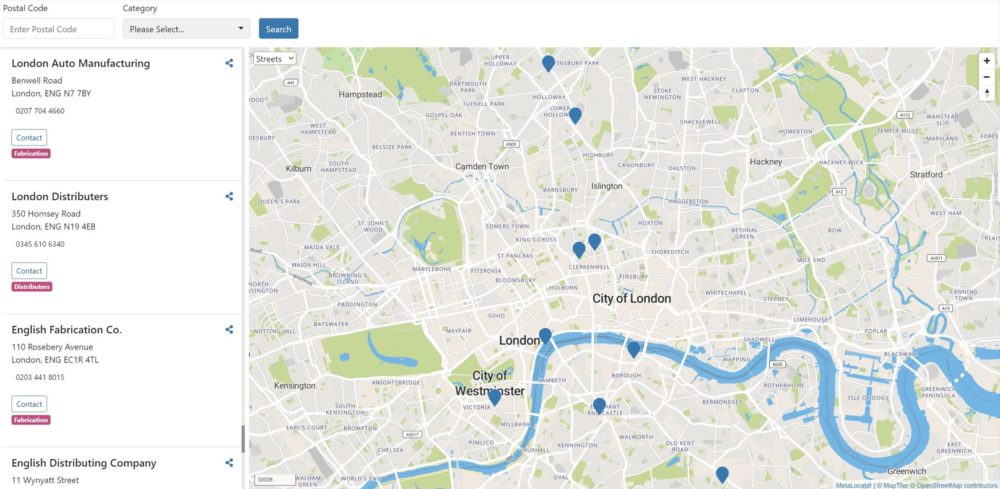 Language Settings
As previously mentioned, the UK's majority language is English but in an ever-growing global society it is important to be versatile in using different languages. One important feature offered by MetaLocator is the easy transition from one language to another within the store locator software.
MetaLocator provides the ability to display your locator in any language you choose. In addition, we support a language selector that allows your user to do it themselves. Additionally, MetaLocator can integrate with a language selector on your site.
MetaLocator's language settings are applicable to the United Kingdom as well as every other country in the world. To learn more about our language settings see our support article on managing language and translation.
For assistance please visit our help center.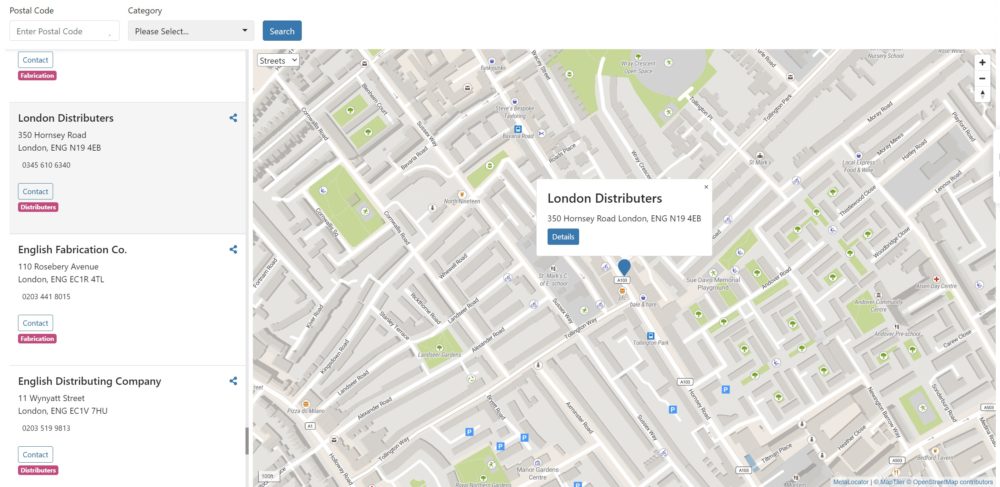 About MetaLocator's Store Locator Software
MetaLocator provides a platform for building store, dealer and partner locators with complete location content management tools and modern responsive location search for your website, mobile device, social network and more.
The locator software from MetaLocator generates leads, calls, conversions and revenue from your partners. This conversion-focused locator tracks analytics on all leads.
For information on all of MetaLocator's offerings, please visit our products page.
Features of Interest to users in the UK:
Search by postal code, or postal code prefix
Search by state, territory, or city name
Supports chained dropdowns for all countries and states/territories
Supports multiple languages
Supports bulk import
Supports multiple countries for users with international needs
Use google maps or our built-in mapping system
International Locators
For more information on best practices when setting up an international locator, see our page on best practices.