Building a store locator in Canada has a few surmountable challenges, but nothing MetaLocator can't support. The first challenge is the postal code structure. Canada uses an A1A 1A1 postal code format, making it slightly different from the numerical format found in the United States. Searching for only the first portion of the postal code (e.g. A1A) is common in Canada.
Secondly, states are referred to as provinces. The country as a whole is divided into three territories, but are not reflected in a common Canadian address.
Finally, Canadians commonly speak English and/or French Canadian.
Supporting different address formats, labels and the customer-facing language is important when choosing a store locator software solution. MetaLocator makes this process simple and intuitive. Below is an example of a locator built for a company in Canada who chose to display their locator in French as the default language.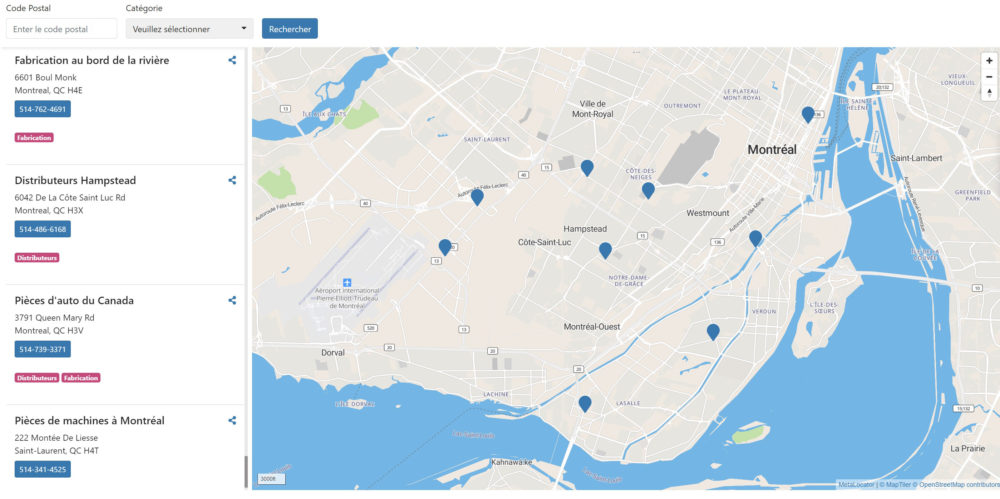 Language Settings
Canada is in the unique position of being a country with two official languages, English and French. The dual language nature makes translation management that much more critical for store locators in Canada.
MetaLocator provides the ability to display your locator in any language you choose. Additionally, we support automatically displaying the locator in the language of a user based on their detected location. As well as the option of adding a language selector that allows your user to choose themselves.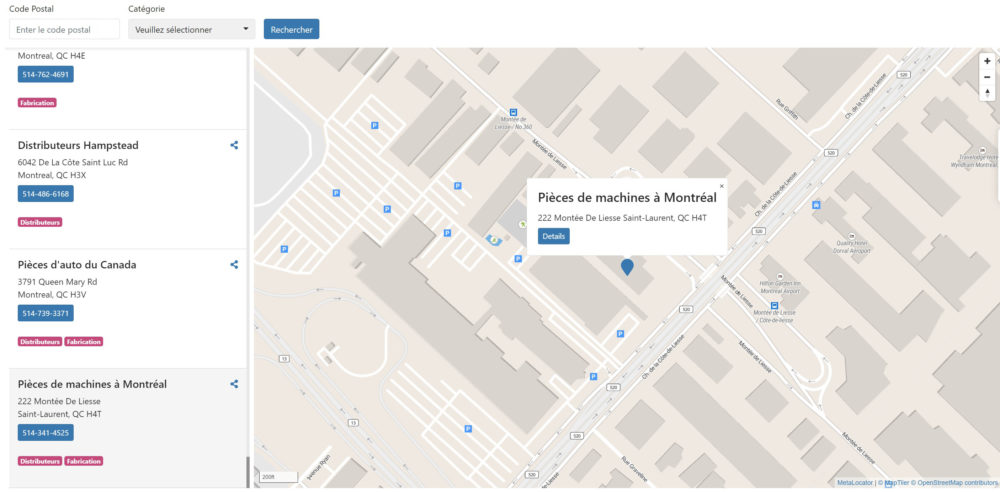 MetaLocator's language settings are applicable to Canada as well as every other country in the world. To learn more about our language settings see our support article on managing language and translation.
International Locators and Special Characters
MetaLocator's locator software has been developed with international business in mind, users can easily import data with various international characters. See this support article with details on how to successfully import data with special characters.
Be sure to review our international deployment guide before building your Canadian Store Locator Software.
Features of Interest for Locator Software in Canada
Search by postal code, or postal code prefix while allowing non-numeric data in the search
Search by territory, province or city name
Supports English, French Canadian, or any other language
Supports bulk import of address data
Supports all countries, not just Canada
Supports google maps and offers a built-in mapping system
Supports dynamic language change based on user preference
For information on all of MetaLocator's features and offerings, please visit our plan comparison page and our products page.