MetaLocator now supports unsubscribing for lead emails. The option to unsubscribe from lead emails is important because it can actually increase your response rate by identifying recipients that don't want leads. There could be a multitude of reasons why a partner may not be interested in leads, such as:
The recipient no longer works for the partner or used a personal email address
The leads don't meet their business size threshold
They no longer stock your product
They are too busy to take on new business
Allowing lead recipients to unsubscribe provides a way for dealers to stop incoming lead emails while ensuring customers are reaching out to partners that want their business.
There are two other major reasons that supporting this feature should be of interest to users. The first reason that there could be a relationship issue between you and your business partner. Seeing the partner unsubscribe from leads could help trigger some sort of relationship maintenance action with your partner. The unsubscribe function can be a way to track which partners may have issues with your brand and provide an opportunity for the relationship to be mended quickly. It provides a "canary in the coal mine" per se.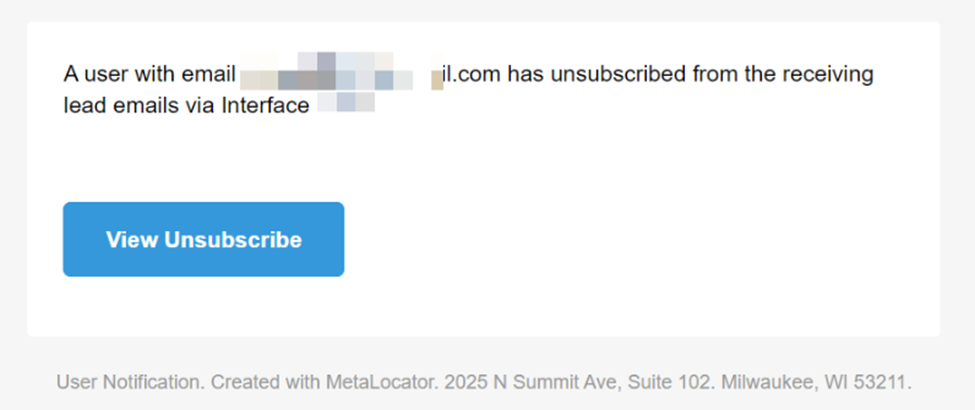 Another issue can be that recipients in your network no longer need your leads. If a partner no longer wants your leads, for various reasons such as limited bandwidth, a change in direction or no longer operating, then they should not be sent further leads. This helps manage and avoid poor customer experiences by preventing the hassle of unresponsive dealers. This also helps the brand function more efficiently, allowing for more time and effort to be focused on the dealers interested in your leads.
When a dealer unsubscribes from leads, they will still have information housed in the dealer locator directory. If the unsubscriber is the sole email contact for the given location, the email button will automatically disappear from that record.
If a dealer unsubscribes, it creates an opportunity for an administrator to review the leads they received previously. In MetaLocator, one can simply click on the leads, then click the name of the dealer, and the user can then review each lead individually. After reviewing the leads, the user can then reach out to the dealer directly to nurture the relationship. Businesses will also stay better informed through the entirety of the lead process.
For more information on how to utilize this feature, see the support article.