We use email marketing automation extensively here at MetaLocator during our on-boarding process.  Recently, a colleague asked me about using email marketing automation for his group fitness business.  In my colleague's gym, they offer a free first class to anyone who would like to try out the gym.  In this article we explore how to automate and optimize the customer experience using GetDrip, a popular email marketing platform.  This process should work well for any in-store service such as a tour or free trial.
Our objective will be to move the Website visitor through the following workflow:
A user visits the business Web site
The user requests a one-time free trial of an in-store service via a simple form.
The user arrives, or doesn't arrive at the store to redeem their free service.
Should the user arrive or not, they may later become a customer.
In the above scenario, the real objective is to create a new customer.  Along the way, an important milestone in that journey is to have the potential customer visit the location and try out the free service.
We use GetDrip in this example, but this lifecycle applies to any email marketing platform.
First, we need to build a form within GetDrip and at it to the Website.  This will be the main call to action on all pages for the Web site.  This is done easily in GetDrip: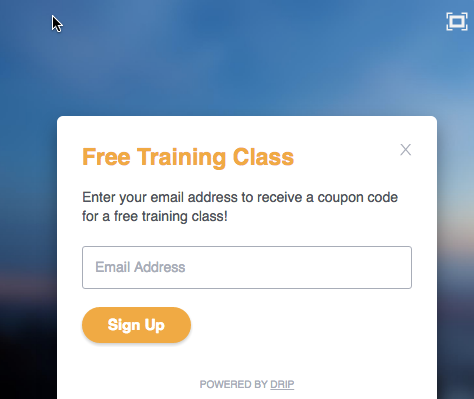 This simple form allows the user to receive an email campaign encouraging them to report for their first free class.  This form kicks off the following simplified workflow: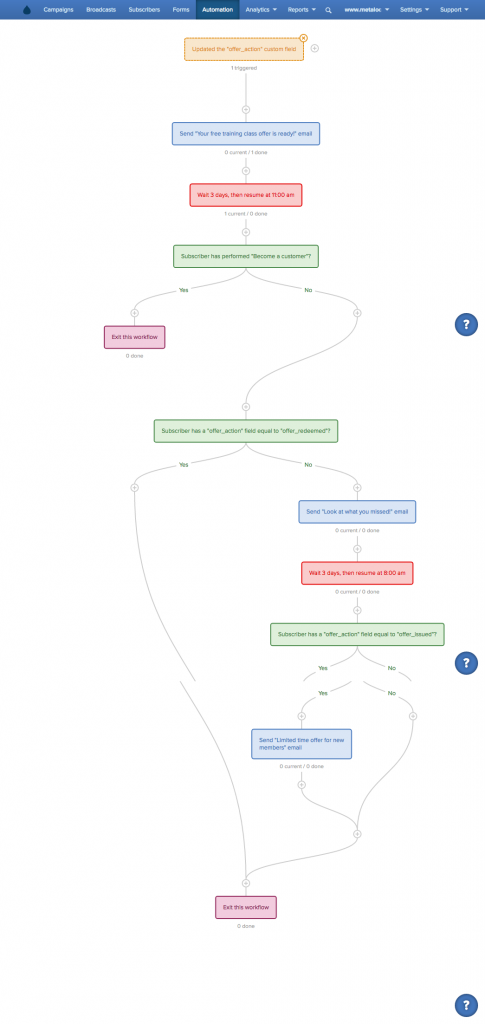 In short, this workflow performs the following actions:
In step 1, it delivers the Welcome email, which includes information about the free service, including FAQ, a video and location hours.
It then waits 3 days and checks of the user showed up to a class.  This workflow checks this status based on the value of a custom field called "offer_action", however; adding a tag, or any other status change will suffice.  Important: Before we move on, there is a critical step that needs to occur at the business when this new user shows up.  They need to immediately flag that user in GetDrip as "Offer Redeemed", or whatever status you decide marks them as having received the free trial.  If you do not perform this step the workflow will never know that the offer was redeemed and it will continue to pester your new trial user.  I would look for an opportunity to automate this step by integrating with the existing on-site class registration system or point-of-sale.
If the user has not shown up to a class, the workflow sends another email with the subject, "Look what you missed!" and includes content regarding common activities that occur in a class.  It re-states the content of the original welcome email in case the user lost their first welcome email.

The workflow then waits another 3 days and sends a Hail Mary.  This email includes an exclusive, limited-time offer just for folks that ignore the first few emails.  It includes a time-sensitive offer to create a sense of urgency.
You can continue this "Wait 3 days, send an email" loop as needed, however; there will be diminishing returns.  Some marketers end with a final email that includes a request for feedback.  A subject like "Why didn't you show up?" might encourage someone to tell you why your message didn't resonate with them.
You can also subscribe this user to a regular mass email monthly newsletter campaign at this point.  Remember, they can unsubscribe at any time if they no longer want to hear from you.  Maybe they are on vacation, or sprained an ankle.
Of the user does show up, then this workflow kicks of an entirely different campaign, and suspends this one.  This new campaign is aimed squarely at this very-potential customer.  These messages are sent only to folks who have redeemed the free trial and actually visited the location.  That campaign will be focused on selecting a subscription plan or moving to the next level of engagement.
We'll stop this tutorial here.  Remember that email marketing automation can help bring a user's engagement up from whatever level they are at.  If they are anonymous Web visitors or your best customer, email marketing can enhance the relationship further.