Build a Searchable Database for your Website from a Spreadsheet
Import your data, configure your search and deploy to your Website.  Hundreds of options, outstanding support.
Quickly create a searchable database from a spreadsheet, data table or CSV and publish to your Website.
Import your data in bulk or or add records one by one directly into our online control panel.  Choose from dozens of design templates and with over 350 features.
Automatically build drop-down or keyword search controls from your data

Allow sorting by column headings

Include a record detail page which can include images, long text and HTML

Over 300 features
Searchable Database Demo
This example is populated with a sample database of people, but MetaLocator can handle any type of data including financial records, products, persons or anything else.  The configuration possibilities are limitless with our Interface Editor.  Choose from a pre-configured template or create your own custom layout. 
Watch us turn a spreadsheet into a searchable database for your Website in 90 seconds.
Try it yourself in our free 30-day trial.  No credit card needed, no obligation to buy.
Need help? Send us your data and ideas, and we will build a searchable database for you, for free.
Simply fill out this form and an agent will contact you with questions regarding your needs. Based on your answers we will build a custom searchable database with your data. There is no obligation to purchase or subscribe. This concierge service is completely free.
Completely Free for 30 days. No obligation to purchase. No credit card required. More Details.
How It Works – 3 Easy Steps
Import Your Data
From Spreadsheets, CSV, SalesForce, our API and more!
Import Your Data
Use our API for custom integrations
Configure Your Search
Choose from 200 options, create unlimited search engines.
Configure Your Search
Build multiple, categorized, individually-deploy-able search engines
Deploy to Your Website
Copy and paste 1 line of code to your site and you're live.
Deploy to Your Website
Our software appears as a seamless, integrated aspect of your website.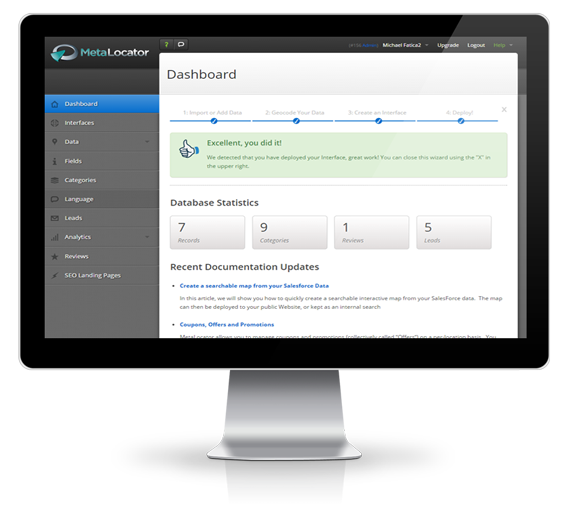 Everything you need, directly from our dashboard.  The simple, wizard-driven interface guides you through essential processes like uploading data and creating our search solution.  Dig deeper using our tutorials and documentation.  Don't worry, if you get stuck, we're here to help.
Completely Free for 30 days. No obligation to purchase. No credit card required. More Details.